This insomniac is to blame for the creation of Circus Acts Insomniacs in 2014. With a background in gymnastics and dance, and a knack for performance, Mackenzie brought together this dynamic group and created an outlet for expression. With a personal passion for the performing arts, Mackenzie has dedicated herself to the development of her skills and the creative process of bringing together performances. Mackenzie is an aerialist, stilt walker, dancer, fire spinner and choreographer. With a drive for captivating crowds and pushing the boundaries, this insomniac won't be sleeping anytime soon.
Rosie is a third generation dancer. She draws much of her inspiration from the women that danced before her. In her youth she danced tap and jazz competitively in Sydney, Australia. More recently she has trained with the Sydney Dance Company and is actively involved in Nelson's Trillium School of Dance. She is well versed in contemporary styles, hip hop, jazz and ballet. Believing movement is poetry and medicine, she is driven by strong emotions, finding sanity and serenity in the art of dance. Her circus arts repertoire includes; stilt walking, clowning, bubbling, hula hooping, fire eating and fire fans.
More comfortable upside down, Ally naturally gravitated toward aerial arts. She began her love affair with the dance trapeze in 2014 and has trained in lyra, trapeze, silk cloud swing, and silks in Toronto, Brooklyn, Vancouver, Mexico, Indonesia and now currently in Nelson, BC. Ally pushes herself to dive deeper into self-exploration and growth through movement; she has studied acro yoga, yin yoga, reiki, and is a black belt in Karate. The Insomniacs give Ally opportunity to make visions into reality and a place to utilize her Costuming certificate. Ally is dedicated to the art of theatre and through training, performing and production, she finds that sweet freedom she seeks.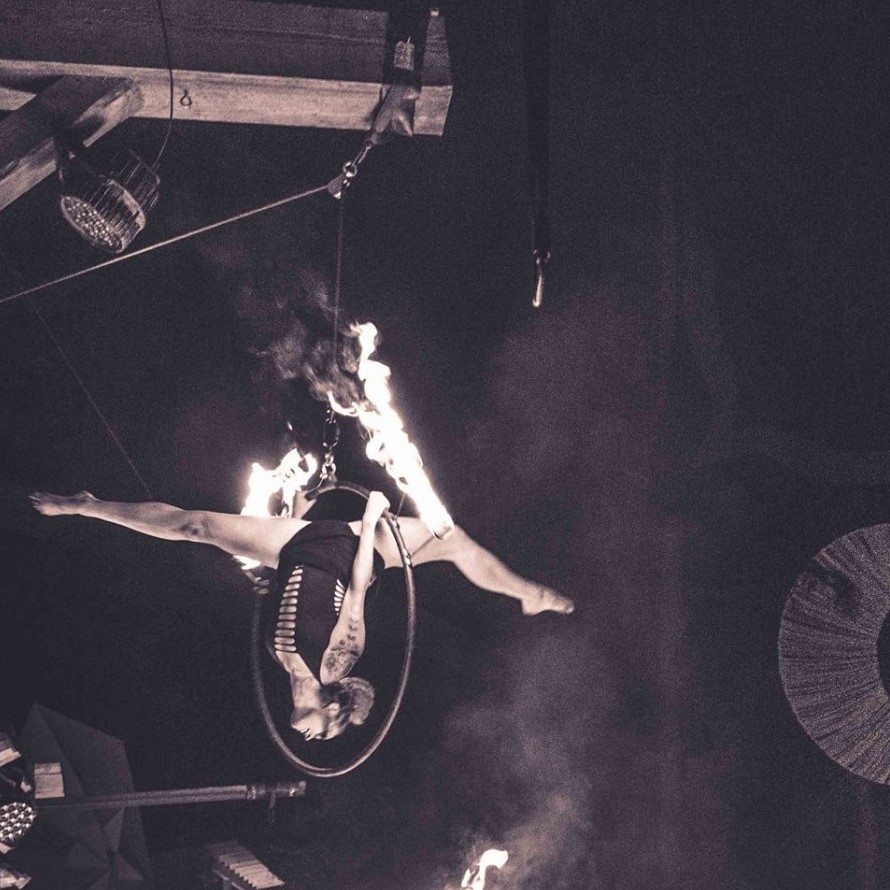 Miss Jake has always had an 'amour' with show business and a flare for the eccentric. With her long history of dance and acrobatics, it was only a matter of time before she fell in love with sparkling hula hoops and started challenging herself with aerial skills. Jake specialises in choreography, fire performance and dance, all while balancing being a new mother.
Often thought of as an earthbound mermaid, unicorn, or other enchanted creature, Luna is a powerhouse of talent, best known for her presence on stage with hula hoops, fire, silk fans and more. Luna lures in audiences with her undeniable magnetism, and it's clear to see why she is easily mistaken for a character out of a story book.
Luna adores her fellow dancers and is proud to be an Insomniac. She loves creating unique pieces and can't wait for the next fable to unfold!
"As she twirls through hoops you will be tranced by desire. Watch her spin poi, she even breaths fire"
Murrae is a charismatic fire-breathing minx. Her passion is poi, but she will charm you with a twirl of her hoop and the wink of her eye. Though her interest in flow arts was sparked on the beaches of Thailand and Australia, her heart is in the Kootenay Mountains where she thrives in a world of wonder and creativity. As an integral member of the Circus Acts Insomniacs she has spent the last several years immersed in a vibrant culture of music and art. Surrounded by stunning beauty and talent, she draws inspiration and pushes herself to evolve and grow as a performance artist. This multi-faceted performer will leave audiences dazzled and delighted...
Renee is a long time Kootenay local who began her dance journey in her home town of Fernie BC. This mountain baby has always had a theatrical flare so it was no surprise to anyone when she discovered she felt most at home in the dance studio and on stage. Once she started dancing there was no stopping her and she grew up training, predominantly in jazz and ballet but she also discovered a strong love of theatre. She moved to Nelson and began performing with the Circus Acts soon after, they opened her eyes to a whole new world of performing arts. She continues to take dance classes to further her learning and has dabbled in belly dance and burlesque. Being able to combine her love of movement, theatrics, and adventure makes this Insomniac grateful that she ran away with the circus, and never looked back.
Petunia, a dancing forest fairy, has had a special love for performance since a young age. With an extensive background in classical dance petunia continued her training in Italy and London, always pushing the envelope and trying new styles. In later years, Petunia discovered burlesque and fire performance and hasn't looked back. Now back home in the Kootenays, Petunia is more than excited to continue her journey with the circus.
Glynis is a local performer, choreographer and dance educator. Growing up in Revelstoke, where she began her dancing, theatre and teaching career, she continued on to train and perform in places such as Switzerland, Edmonton and Vancouver where she grew into a dynamic and creative artist. Now a Nelson resident, Glynis teaches and at Slava Doval's Dancefusion and has opened up her own dance studio in Kaslo B.C. Glynis continues to perform with various groups and diversify her training through circus and gymnastic pursuits.